Game rules Football Match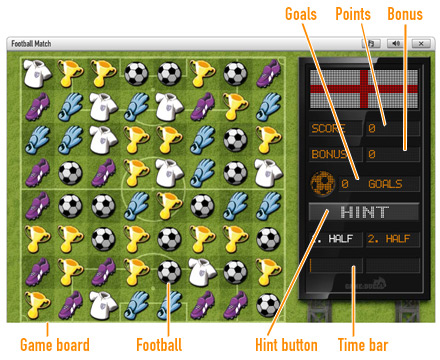 Object of the Game
Swap tiles to complete horizontal or vertical lines of 3, 4, or 5 identical tiles.
Score goals by clearing lines of footballs.
How to Play
Swap two adjacent tiles to complete horizontal and vertical lines of identical tiles. You can only swap tiles that border on the left, right, top, or bottom of the selected tile.
You cannot swap diagonally bordering tiles. You also cannot swap nonadjacent tiles.
After a row or column of at least 3 identical tiles has been formed, the row will disappear. The resulting gap will then be filled with tiles that will fall from above, and new tile combinations will be possible.



How to Swap 2 tiles
There are two ways to swap tiles:

"Drag & Drop" one of the tiles onto the other.
Click one tile after the other.

By clicking on an already-selected tile, the tile will then become deselected.
Invalid Moves
Each time a tile is swapped, at least one row of identical tiles must be formed. In other words, you cannot make more than one move to form a line of identical tiles.



Invalid Move (no line formed)
The swapping of nonadjacent tiles is not valid.



Invalid Move (non-bordering tile swapping)
You are not allowed to swap diagonally bordering tiles.




Level and Time Requirements
The game is divided into two halves.
Each half is 45 seconds long.
The second half automatically begins after the first 45 seconds are over.
In the first half, there are five different tiles. In the second half, the number of different tiles is increased to six and it becomes more difficult to complete rows of tiles.
NEW: Score goals
Clear rows of footballs to score goals. The number of goals you'll earn for each row depends on the amount of football tiles present:
A 3-tile row is worth 1 goal
A 4-tile row is worth 2 goals
A 5-tile row is worth 3 goals
Intersecting lines: If you form intersecting lines with soccer balls (L-shaped or T-shaped lines), then they will be scored as two separate lines. For example, a T-shape formed by two 3-tile lines is counted as two separate 3-tile lines. You would score two goals with this shape.
Bonus points: You receive 1,000 bonus points at the end of the game for each goal.
Scoring
You will receive the following points for forming the stated lines of identical tiles:
A 3-tile row is worth 200 points
A 4-tile row is worth 400 points
A 5-tile row is worth 600 points
In addition to these points you can score goals by clearing lines of footballs, which in turn will earn you additional bonus points:
A 3-tile line of footballs is worth 1,000 bonus points
A 4-tile line of footballs is worth 2,000 bonus points
A 5-tile line of footballs is worth 3,000 bonus points
Chain-reaction: You will receive extra points if falling tiles cause chain reactions.
Each line that is automatically cleared by falling tiles will earn you 100 additional points.
Intersecting lines: If you form lines that intersect (i.e.: L-shaped or T-shaped), then they are scored as two separate entities. For example, two groups of three that form the shape of a T will be counted as two single lines.
Hints and Strategies
Try your best to form 4 or 5-tile lines and intersecting lines as they result in more points.
Take advantage of chain reactions. The closer to the bottom that you form lines, the bigger the chance is that the falling tiles will create new lines.
Try to clear as many lines of footballs as possible. They are worth more bonus points.
The Hint Button
Use the hint button when you are unable to find any additional, matching lines. You will then be shown an available combination.
But be careful! A single use of this button will cost you 1000 points and each further use will increase the penalty by an additional 1000 points (i.e.: -2000, -3000, -4000, etc.).
Please note: New tiles will automatically fall onto the playing field if there are no more available combinations. That means that you can always be sure there are valid combinations on the screen.